Company
MUNDA Textile Lichtsysteme GmbH in Erkrath was founded by AUNDE and MENTOR as equal partners in the summer of 2019. Our name, MUNDA, derived from MENTOR und AUNDE, symbolises the basic idea behind the joint venture: two companies with a common objective contributing their key expertise and creating something new – textile lighting systems – at the highest technical level and suitable for use in mass production in the most demanding industries.
AUNDE, a globally leading automotive supplier, is lending its expertise in the field of technical textiles, while MENTOR, one of Germany's leading specialists in product-integrated light, has many years of experience in LED-based light technology. We are combining the expertise of both companies to create new possibilities for innovative, technical lighting applications with which customers from varying sectors can design products that are more useful, better looking and more individual.
Learn more in our company brochure.
One area we are concentrating on is the automotive industry: whereas previously, more functional perspectives, such as good orientation were the focus of automotive interior lighting, today much thought is given to emotional aspects such as atmosphere, well-being and character, and the desire for individual lighting. There will be an even greater fusion of all of these aspects in the future.
New functions will be created, not least thanks to the current mega trend towards autonomous driving, and light will determine the ambience and atmosphere of internal spaces in the form of dynamic scenarios, with virtually no area of a car's interior being left out. "The textile lighting systems from MUNDA will meet these new requirements and help create entirely new customer experiences", says Rolf Königs, CEO of the AUNDE Group.
But it is not just the automotive industry where state-of-the-art lighting solutions are used. Demand for product-integrated lighting is also on the rise in many other industries for their increasingly multifunctional products. The aim is to generate practical added value in the products of tomorrow through functional, aesthetic and emotional aspects. In either case, the technology of textile lighting systems offers huge benefits and creates entirely new possibilities.
Requiring hardly any component-specific tool costs, this technology enables short development times and is suitable even for quantities where a tool-based technology is no longer cost-effective. "The technology under development at MUNDA will open up new areas of application and further growth opportunities in many industries." says Wido Weyer, Managing Director of MENTOR.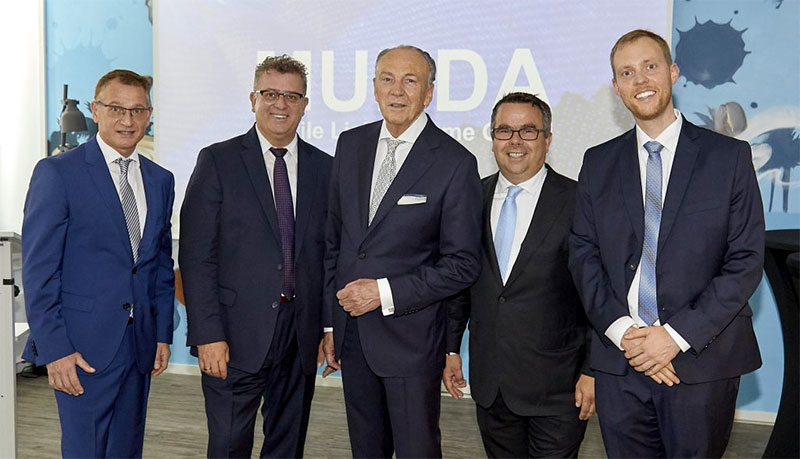 Delighted about the establishment of the joint venture MUNDA in 2019 (from left to right): Wolfgang Mursch (CTO MENTOR and CEO MUNDA), Wido Weyer (CEO MENTOR), Rolf A. Königs (CEO AUNDE), Peter Bolten (CSO AUNDE) and Benjamin Mohr (Head of Development MUNDA)
As a pure development company, we currently work exclusively for our two parent companies and are committed to their ethical codes of conduct and integrated management systems.
The system solutions we develop are manufactured by MENTOR and AUNDE and they also handle logistics and sales. You can find your contacts for sales, marketing and HR here.
QUALITY MANAGEMENT SYSTEM
Certified according to ISO 9001:2015
We give very high priority to ensuring the consistently high quality of our services and processes. To ensure this and to document it for our customers, MUNDA's quality management system has been certified by TÜV Rheinland Cert GmbH according to ISO 9001:2015. You can download the certificate here.

Founded in Mönchengladbach in 1899, the AUNDE Group with its brands AUNDE, ISRINGHAUSEN and FEHRER produces yarns, technical textiles, foams, seat covers, seats, technical springs and interior modules for leading automotive manufacturers worldwide. AUNDE has more than 24,500 employees, with its products being produced in 117 factories in 28 countries worldwide.
www.aunde-group.de

Founded in 1920, MENTOR is a recognised development partner and series supplier for key automotive manufacturers and renowned OEMs of other industries. With production sites on three different continents and representations for over 40 countries, MENTOR develops and produces LED-based lighting systems for ambient and functional lighting as well as state-of-the-art control and display elements for housing fronts and other mechanical, electronic and optoelectronic HMI components.
www.mentor.de.com